LOTE Storytimes
We hold Portuguese storytimes at Emerald Hill Library, and Russian and Spanish storytimes at St Kilda Library.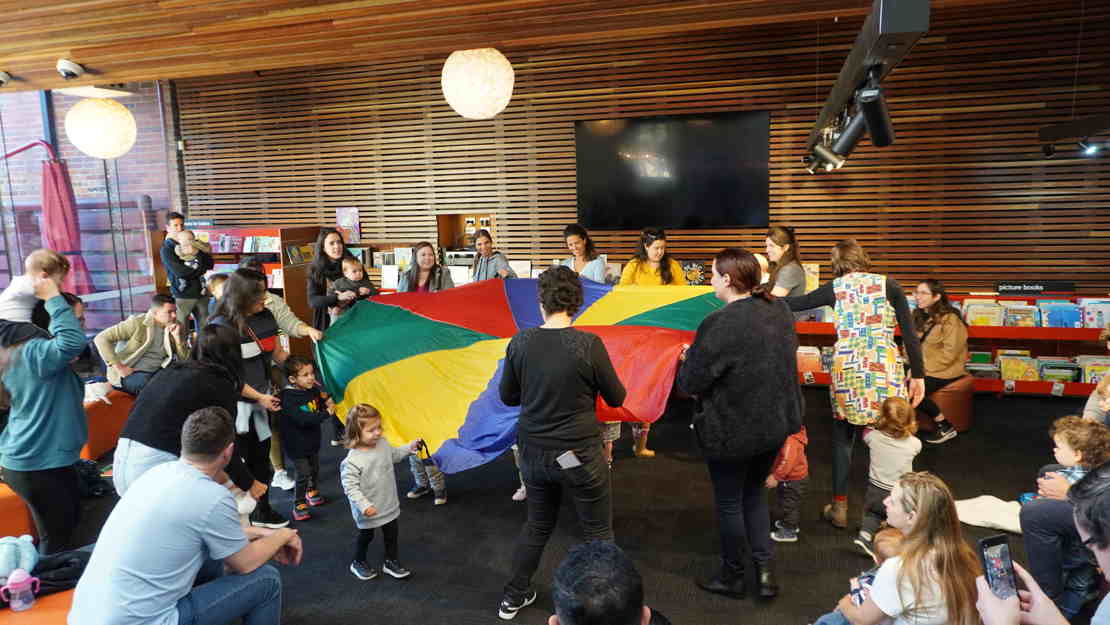 Portuguese Storytime
Join us for a full filled morning of books and songs in Portuguese.
Born in Brazil, Leticia is a local mother of two who loves reading stories to her children. Leticia considers language a "superpower, which allows access to new music, literature, and friends". She hopes that the songs and books read during Storytime will encourage the kids to learn and speak Portuguese as a heritage language.
Suitable for children 0 - 5 years
Where: Emerald Hill Library
When: First Saturday of the month, 10.30 am to 11 am
Contação de Histórias em Português
Junte-se a nós para uma manhã repleta de livros e músicas em português.
Nascida no Brasil, Leticia é uma mãe local de dois filhos que adora ler histórias para eles. Letícia considera a linguagem um "superpoder, que permite o acesso a novas músicas, literatura e amigos". Ela espera que as músicas e os livros lidos durante o Storytime incentivem as crianças a aprender e falar o Português como língua de herança.
Adequado para crianças de 0-5 anos de idade
Onde: Emerald Hill Library
Quando: Primeiro Sábado do mês
10h30 às 11h
Russian Storytime
Introduce your little ones to the wonderful Russian Storytime with the fabulous Natasha. Come and enjoy reading picture books and singing Russian nursery rhymes together.
Suitable for children ages zero to 5 years
Where: St Kilda Library
When: First Monday of the month at 11 am
Русская история
Познакомьте своих малышей с прекрасной русской сказкой со сказочной Наташей. Приходите и наслаждайтесь чтением книжек с картинками и пением русских детских песенок вместе.
Подходит для детей в возрасте от нуля до 5 лет.
Когда: первый понедельник месяца в 11:00
Spanish Storytime
Whether you are fluent or just curious, come along and join in the fun with Daniela. Learn some songs and listen to stories in Español with your little ones.
Suitable for children ages zero to 5 years
Where: St Kilda Library
When: First Wednesday of the month at 2 pm
Hora del cuento en español
Ya sea que habla con fluidez o simplemente tenga curiosidad, venga y únase a la diversión con Daniela. Aprende algunas canciones y escucha cuentos en español con tus pequeños.
Cuándo: primer miércoles de mes a las 14:00 h