Kids programs, clubs and activities
We offer ongoing kids book clubs, storytimes and activities throughout the year.
Storytimes
Storytimes have returned.
Bookings will be essential for all adults and children over 12 months to comply with COVID-19 contact tracing and capacity requirements.
Adults are required to wear a face mask.
Bookings open on Wednesdays at 10 am.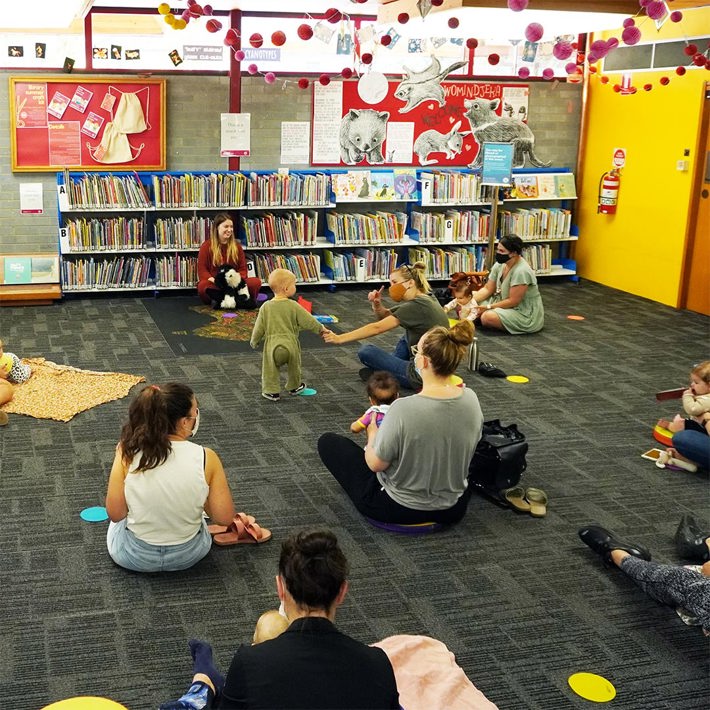 Baby Rhyme Time
Introduce your little ones to the wonder of babies first books, interactive play, rhyme, rhythm and bouncy songs. Meet other new parents and babies as you learn new songs and the importance of reading with your child.
Suitable for child, zero to 18 months
Bookings essential
Tiny Tots Storytime
Toddlers love singing, dancing, listening to fun stories and rhymes. This is an interactive and joyful storytime where caregivers are encouraged to engage with their children to model listening skills and a love of language
Suitable for child, 18 months to 3 years
Bookings essential
Preschool Storytime
These sessions will be re-introduced soon
Bring your pre-schooler along to participate in a broad selection of picture books, stories, songs and rhymes, involving interactive fun and learning. Have fun while developing language, listening and comprehension skills.
Suitable for child, 3 to 6 years
Bookings essential
Bedtime storytime
These sessions will be re-introduced soon
Bedtime storytime provides an evening out for the whole family.
Suitable for the whole family
Bookings essential
Russian Storytime - LOTE
Stay tuned for upcoming sessions
Introduce your little ones to the wonderful Russian Storytime with the fabulous Natasha. Come and enjoy reading picture books and singing Russian nursery rhymes together.
Suitable for 0 to 5 years
Bookings essential
Lightning Readers bookclub
If you're between 8 and 12, love reading and want to talk about all things books, why not join Lightning Readers Book Club.
The club could be called 'Orange Juice, Chips and Chocolate Frogs' as these are regular features of the experience. Along with the crumbs and greasy fingers, there is lively discussion and book reviewing, active listening and lots of laughter.
There are no set books; just discuss what you have been reading in the past month and rate it. Reviews get written up each month and are published on the Lightning Readers blog.
Spaces are limited so register your interest today!
To register your interest, contact us.
Would you like some help?