Ben's Book Club: December
Ben's Book Club is a free monthly digital book club with guest authors and lively literary discussion.
Hosted by best-selling author Ben Hobson, each monthly event features a virtual interview with an author about their selected book.
Library card holders can borrow the book chosen for Ben's Book Club, with no waiting or holds on the Libby reading app. Users with a library card can download the selected title on any device 24/7 on the Libby app or by visiting OverDrive, read the title, and then join Ben online each month to meet the authors, and discuss their books. For each event, a Zoom link will be posted here for guests to join the discussion instantly.
Ben also has a Facebook group where readers can post comments and interact with Ben before each Ben's Book Club event.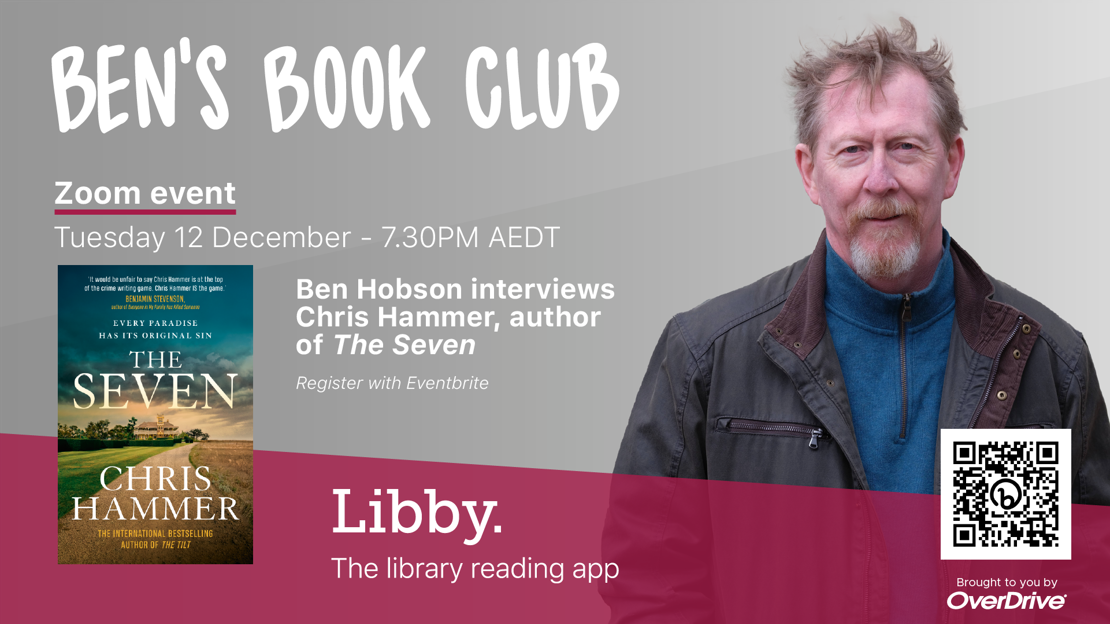 When and Where:
Ben's Book Club
Tuesday 12 December
7:30 pm to 8:30 pm AEDT
Join Ben Hobson in conversation with author Chris Hammer about his new novel 'The Seven'.
This event will be hosted on Zoom, and the link will be sent to all attendees on the day of the event.
About the book
Yuwonderie's seven founding families have lorded it over their district for a century, growing ever more rich and powerful. But now—in startling circumstances—one of their own is found dead in a ditch and homicide detectives Ivan Lucic and Nell Buchanan are sent to investigate. Could the murder be connected to the execution of the victim's friend thirty years ago—another member of The Seven—or even to the long-forgotten story of a servant girl on the brink of the Great War?
What are the secrets The Seven are so desperate to keep hidden? With the killer still on the loose and events spiralling out of control, the closer Ivan and Nell get to discovering the truth, the more dangerous their investigation becomes. Can they crack the case before more people die?
The Seven is a compelling thriller filled with intrigue, emotional depth and an evocative sense of place—where nothing is ever quite what it seems.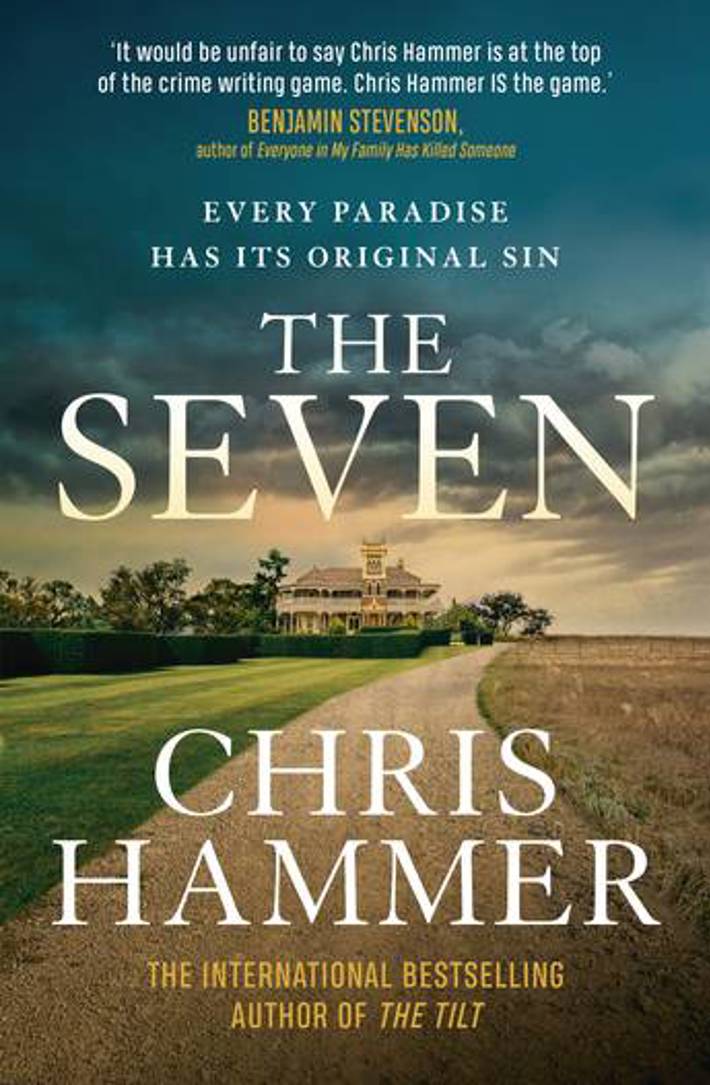 About the author
Chris Hammer is a leading Australian author of crime fiction. His first book, Scrublands, was an instant bestseller when it was published in mid-2018. It won the prestigious UK Crime Writers Association John Creasy Award for a debut crime novel in 2019 and was shortlisted for various awards in Australia and the United States. Scrublands has been sold into translation in several foreign languages, and a television series based on the novel is scheduled for completion in late 2023.His follow up books -Silver (2019), Trust (2020), Treasure & Dirt (2021) and The Tilt (2022) - are also bestsellers, and all have been shortlisted for major literary prizes.
Before turning to fiction, Chris was a journalist for more than thirty years, dividing his career between covering Australian federal politics and international affairs. He reported from more than thirty countries on six continents with SBS TV, while in Canberra his roles included chief political correspondent for The Bulletin, senior writer for The Age and online political editor for the Sydney Morning Herald. Chris has also written two non-fiction books, The River (2010) and The Coast (2012).
Register Today
Register for your Ben's Book Club spot and receive the event zoom link and emails about upcoming events.
Join Via Zoom
You can use the link below to join the event if you didn't get the link via email. Passcode is 776920 
About Ben Hobson
Ben lives in Brisbane with his wife and their two small boys. He currently teaches English and Music at a Brisbane High School.
In 2014 his novella, If the Saddle Breaks My Spine, was shortlisted for the Viva La Novella prize, run by Seizure online. To Become a Whale, his first novel, published in 2017, was longlisted for the ABIA Debut Fiction award, and the Courier Mail's People Choice Award. His second novel, Snake Island, was released in 2019.
You can watch all of the previous Ben's Book Club episodes via the link below.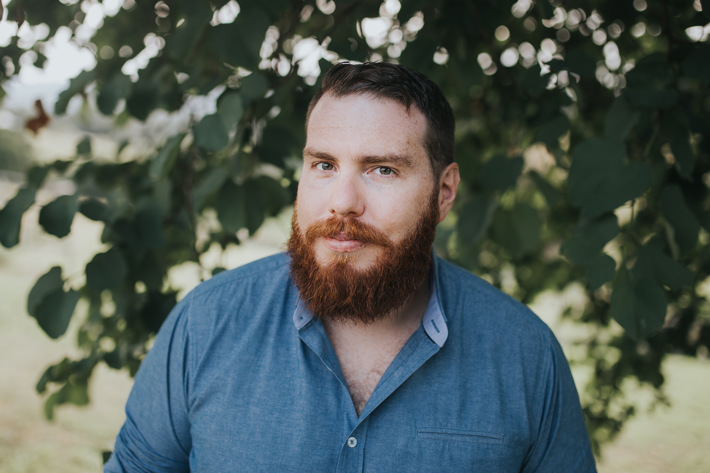 Previous Ben's Book Club Episodes